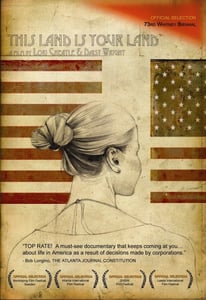 $

19.95
THIS LAND IS YOUR LAND is a revealing, startling, and at times hilarious exploration of the overwhelming corporate takeover of American life. Over the course of three years, the filmmakers traveled across the U.S., interviewing award-winning authors, historians, media commentators and ordinary citizens about the wide range of ways individuals experience the impact. The film goes on to examine broader effects of corporate power on the social fabric and the very principles of democracy.
"Wonderful, irreverent" - Josh Cohen, New York Press
"Essential viewing."- Marrit Ingman, The Austin Chronicle
"Top rate, a must see" - Bob Longino, The Atlanta Journal Constitution
Directed by Lori Cheatle & Daisy Wright
2004 | 82 min
Visit Hard Working Movies for more information about our films.